Superfly is a responsive WordPress menu plugin that generates trendy vertical push/sliding/static navigation for your site. Superfly makes navigation much easier and user-friendly both on desktops and mobiles. Concept of off-canvas vertical menu that proved itself on mobiles now shines on desktops too!
Mouseover interface removes necessity of extra click and user reveals menu with easy move and beautiful appearance. Click option is still available though. Under the hood, only industry's best practices are used for animations and smooth performance.
Please backup your previous version when doing update to 2.x as we made slight changes to existing features.
Can be used as section navigation for one page sites (when menu items has href attribute like href="#contact"). Superfly provides smooth scrolling.

You can add icons to your menu items. Click banner and check out how to easily add Font Awesome icons to menu.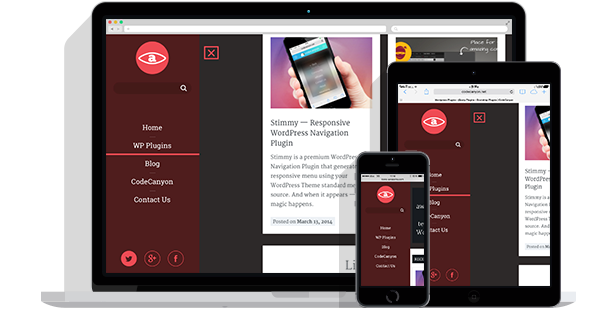 Sliding vertical menu is the trendiest flow in web design these days. Now this navigation pattern comes to WordPress with Superfly plugin. It perfectly suits for every modern site.
How it works:
Superfly sits on standard WordPress menu system. So you create standard WP menu (or use existing) in WP admin on Appearance/Menus page and then you choose this menu on Superfly's options page as source. Superfly injects specified menu in its sidebar. Also you have option to specify alternative menu using CSS selector if you want to use some existing menu on page as source for Superfly.
Main features:
Displaying control
Show/hide on mobiles, show/hide on desktops, show on specific pages, show for logged in users.
Trigger settings
Option to hide default menu button (label) and toggle menu from any element (button, link, image).
Rich elements
Add widgets, shortcodes or any custom html to Superfly panels.
Styling menu
Design your menu items by adding image, icon or/and second row text. Change font-settings, colors and more!
Multi-level menus support (up to 4 levels)
Proper adaptation for both Desktop and Mobile devices.
Icons to mark menu items
Provided with Font Awesome.
Behavior options
Like pushing content or not, opening on hover or click.
Tons of customization
Almost everything can be customized: menu panels, fonts, hover effects.
Enhanced Mobile support
Use Superfly for all devices or for mobiles only. You can even add navbar with your logo for smartphones. Swipes supported.
Beautiful animations
Optimized greatly and created with pure CSS3.
Cosy Admin panel
Clean design, simple understandable structure and tons of options handy in use.
Responsive design
Superfly suits perfectly to different screen sizes.
View modes
Use as vertical menu or switch to Fullscreenmode.
More to go!
Request you feature via comments or any convenient way!
And even more:
Social links in sidebar.
Search field can be added.
Lightweight plugin.
Coloring everything.
Handy font settings.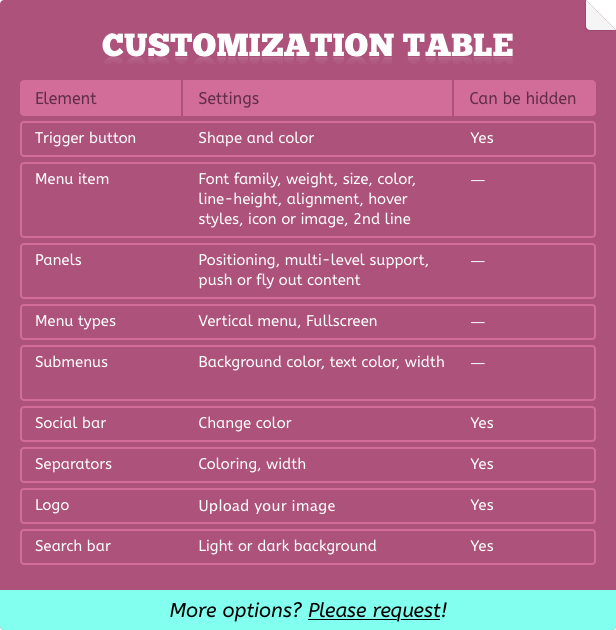 Known issues
Chrome browser has some glitches rendering fixed background (background-attachment:fixed rule) after CSS transformations applied (which is happening when plugin pushes content). Background becomes static and flickers. This cannot be fixed until Chrome devs fix this for their browser. Plugin applies workaround for this case when body element has fixed background. For rest elements it applies background attachment 'static' in Chrome. You can use slide out animation instead of pushing content if you want your background to be fixed.
Changelog
Please request features in comments section to schedule them higher. Requests from users with 'Purchased' badge will have highest priority